The fourteenth in a series of important Australian musicals by Peter Pinne.
The twenty-sixth of February 2002 was not only an important date in the history of the Australian musical theatre it was also an important date in the history of the Broadway musical because it was the opening date of the first Australian musical to play New York. [1] The show was Prodigal and the authors were Dean Bryant and Mathew Frank.
Dean Bryant (writer/lyricist) and Mathew Frank (composer) met in 1997 when they were studying at the West Australian Academy of Performing Arts (WAAPA). In looking around for something to write together the idea of a contemporary retelling of the biblical parable of The Prodigal Son set in Australia where the son was 'gay' seemed to have dramatic possibilities. [2]
They began work on the piece, keeping the cast small as befitted the intimate family story, focusing on the boy, his country family, and two city friends. The action moved between two locations; Sydney and the small fishing village of Eden on the NSW south coast. [3]
Prodigal, Melbourne 2011, image by Jeff BusbyLuke, the prodigal son, has just turned eighteen. His parents want him to run the family fishing business with his elder brother Kane. Instead he goes off to study at Sydney University. It is there he discovers his homosexuality, befriends a free spirit Maddy, and meets Zack who becomes his first boyfriend. When he returns home, it is to a father who is less than accepting of his son's gayness and lifestyle, a switch on the original biblical tale where the father welcomes his son home with open arms. The characters of Kane and Zack were written to be played by the same actor.
The thirteen song score included: 'Picture Postcard Place', 'Happy Families', 'Run with the Tide', 'Brand New Eyes', 'When I Was a Kid', 'My Boy', 'Out of myself', 'Set me Free', 'Epiphany', 'Love Them and Leave Them Alone', 'Where Does it Get You?', 'Maddy's Piece', and 'Lullaby'. A couple of ballads, 'Harden Your Heart' and 'What the Heart Knows is True' were cut after the first draft. [4]
The musical, which was titled Prodigal Son, received a workshop at WAAPA in September 1999, which led to a small sold-out production at Melbourne's Chapel off Chapel during the Midsumma Festival (a Celebration of Queer Culture) in January 2000. It cost $1,000 to mount, half of which was donated by the gay club Three Faces. [5] A later and longer season was also sold-out at the same venue opening 6 July 2000, and playing for 18 performances.
The cast included Dean Bryant (Luke), Graham Pages (Kane/Zack), Amanda Levy (Maddy), with Barry Mitchell as the father Harry, and Jules Hutchison as the mother Celia. The composer was musical director, with direction by Kris Stewart. Yellow floor squares, three chairs, a large drape, a clear plastic sofa and a sheet of semitransparent plastic conveyed kitchen, pub, pad, hospital and dockyards in Paula Levis' design.
Prodigal flyer, New York 2002Jim Murphy (The Age) said of the work, 'The songs are firmly wedded to plot and character, with well-turned lyrics and inventive settings. If the score lacks anything it is one song that truly lets go and takes the emotions of the piece soaring.' He thought Bryant 'nicely underplayed' the role of the likeable Luke, with Mitchell and Hutchison 'etching neat portraits of his decent but uncomprehending mum and dad.' According to Murphy, the show's 'finest musical moment' was Mitchell singing 'Lullaby', as the son and father reconcile.Following the season the cast recorded an album of the show's score. Two songs, 'Picture Postcard Place' and 'Happy Families' were included on the Bayview compilation recording Musicals from the Land of Oz (RNBW012) released in the US, UK and Australia in 2001.
In March 2001 Prodigal Son was nominated for three Victorian Green Room Awards and won Best Original Score and Best Supporting Actor. The authors, creative and life partners, at the time were both 24.
Home for New York's York Theatre Company is an intimate theatre at St Peter's in the Citigroup Center, 619 Lexington Avenue at 54th Street. It is the only theatre in the city – and one of the few in the world – committed to producing new musical theatre works and rediscovering musical gems from the past.
Their 60 full-scale musical productions have included The Golden Apple, The Grass Harp, On the 20th Century, A Doll's House, Lost in the Stars, Carnival! and Merrily We Roll Along. Several of their productions which have moved to extended runs on Broadway and Off include Sweeney Todd, Pacific Overtures and Jolsen & Company. Their new work includes The Musical of Musicals, The IT Girl, Roadside, Avenue Q, Summer of '42 and Harold and Maude.
James Morgan has been Artistic Director of the Company since 1997 and it is to him that Prodigal Son owes its Off-Broadway production. Linda Tulberg, a friend of Frank Van Straten's had the original Australian cast recording and was a subscriber to the York Theatre Company. She passed the CD on to him and then a few months later he was driving to Florida and popped it into his car stereo. He emailed the authors a few days later and said if they were ever in New York City they should do a reading of the musical at the York. [6]
Flush with royalties from a tour of their schools musical The People in Your Pocket, Bryant and Frank were already planning their first trip to New York. It was propitious that the email arrived a few weeks before their trip, so when they arrived in New York they immediately set-up the reading. [7]
Prodigal,New York 2002, photo by Edward Pierce On 8 January 2002, it was announced that York Theatre Company would stage the American premiere of the Australian Musical Prodigal which the show was now titled. The cast featured Christian Borle (Kane/Zack), Kerry Butler (Maddy), Alison Fraser (Celia), David Hess (Harry), and Joshua Park (Luke). All had Broadway credits. Borle had recently been in a revival of Jesus Christ Superstar, Butler had appeared in Bat Boy, Fraser in Romance Romance and The Secret Garden, Hess in Annie Get Your Gun, and Park had played the title character in The Adventures of Tom Sawyer.
Direction was to be by Victoria Pero, scenery by James Morgan, costumes by Dan Lawson, Lighting by Edward Pierce and musical direction by the composer. But that's not how it actually turned out.
Rehearsals were chaotic with the director asking for constant rewrites which the authors dutifully did, until eventually things came to a head and the director was fired one week before opening. Artistic director James Morgan took over, the rewrites were thrown out, and the script basically reverted to the Australian script. [8] When the musical opened on 26 February 2002, the score was unchanged from the Chapel off Chapel production.
Prodigal, New York 2002, photo by Edward Pierce Neil Genzlinger (New York Times) said 'Prodigal does, however, offer some good comic moments, a couple of decent musical numbers and two especially fine performances. It's just enough to make you forget, or at least forgive, that you've seen this story and format before.' He also praised the 'impeccable comic timing' of Fraser and Boyle, but thought that musically the 'creators were unable to decide whether to go for Stop the World I Want to get Off or Andrew Lloyd Webber; you find yourself wishing they would sometimes just let the songs be songs, rather than pseudo-opera.'
William Stevenson on broadway.com claimed, 'Frank's best songs, like "Where Does It Get You?" and "Epiphany" feature intertwining melodies and pleasing harmonies. Some of Bryant's lyrics are mundane, but at times they're quite touching.' He also called it a 'breakthrough musical'. In his praise for the cast he said Park 'has a strong voice and makes Luke more than just a stereotypical innocent kid,' and he manages a 'convincing Australian accent'. He also liked Fraser with her song 'Love them and Leave them Alone', and Hess with his solo 'Lullaby'.
Brooke Pierce (theatermania.com) thought the musical 'feels more like a sketch for a musical than a fully fleshed-out piece'. He then went on to say the music is 'pretty but not especially memorable, and many of the songs feel too short and/or simple to convey deep emotions'. He said the book was 'competently constructed and frequently funny', but wrapped it up by saying, 'Prodigal has a cute sense of humor and a lot of heart. What it needs is more strength, more energy, and more work.'
If they were not out and out raves, they were at least decent enough to attract audiences which the musical did for 40 performances. The production was scheduled to play until 7 April but closed a week early.
The York got it right when it came to the set which consisted of a series of corrugated iron panels that nicely delineated the Australian country landscape, but wrong with the props with no bottle of Fosters in sight. In this production the characters only drank Heineken beer. [9]
On 7 and 8 October, the cast reassembled at Clinton Studios, New York, to record the score for Jay Records (CDJAY 1370). It became the first Off-Broadway recording of an Australian musical.
In 2005, Prodigal had its first Sydney production at the Memorial Arts Theatre, Sutherland, on 25 February, as part of the Sydney Gay and Lesbian Mardi Gras. Direction was by Craig Stewart, musical direction by Andrew Howie, with a pro/am cast that included Tim Watson, Michael Smith, Jane Newton, Leonie Johnson, Luke Coleman and Sam Ardasinki. Its short season finished on 4 March.
Later in the same year Prodigal was again produced in the US at Spirit of Broadway, Norwich, Connecticut, opening on 2 November.
Prodigal, Midsummer 2011, image Jeff BusbyProdigal had a Melbourne revival as part of the Midsumma Festival, 19-28 January 2011, playing a seventeen performance sell-out season at fortyfive downstairs. The production, financed by the authors, was directed by Dean Bryant, and billed as a 'coming-out-of-age story'. The cast included Edward Grey (Luke), Anne Wood (Celia), Peter Hardy (Harry), Adam Rennie (Kane/Zack), and Christina O'Neill (Maddy). Mathew Frank and Mark Jones were co-musical directors, but Jones played the piano accompaniment. Design was by Joanna Butler, with lighting by Rob Sowinski.
Writing in the program Bryant said, 'Matty and I wrote Prodigal when we were 21...There's so much in the show that only a 21 year-old writing for the very first time would write, but the upside is that it has an energy that only a 21 year-old could write.'
Daniel G. Taylor (Stage Whispers) called it 'the best of Midsumma 2011...this is one of those rare productions where everything is perfect: the direction, the acting, the lighting, the set design.' He thought Adam Rennie's performance as Kane/Zack was 'astonishing', and that Anne Wood delivered the emotional highpoint when she sang, 'Love Them and Leave Them Alone'.
Prodigal, Melbourne 2011, image by Jeff BusbyOther critics were equally as laudatory: 'Prodigal is a smart and big-hearted tear-jerker. It's home-grown musical theatre at its finest' (Cameron Woodhead, Age) ...The cast is talented, with Grey's clear tones and passionate performance bringing young Luke to life.' (Kate Herbert, Herald-Sun); 'Charming, engaging and entertaining, Prodigal is a charming first show from two of Australia's most successful music theatre practitioners.' (Richard Watts, Arts Hub)
Following the success of Prodigal Son, Bryant and Frank were commissioned by Lally Katz at the Next Wave Festival, Melbourne, to write a piece for their 'Primetime' series that was the length of a half-hour TV program without the ads. The Virgin Wars, was the result, a 24 minute tongue-in-cheek one-act musical about American teenagers preaching the virtues of virginity on a high-school stage. It was based on the abstinence movement in America where teenagers were given funding to educate other teenagers about 'staying a virgin' and Britney Spears (at that point) was the figurehead for the movement. [10]
It opened 17 May 2002 at the Arts House Meat Market, North Melbourne. The cast featured Esther Hannaford, Rosemarie Harris, Amanda Levy, Mary-Anne McCormick and Carmel Reeve. Direction was by Kris Stewart, choreography by Natalie Marsland, with musical direction by the composer.
Girl on the Screen, Malthouse 2006, photo by Jeff BusbyFollowing positive feedback the authors decided to expand the work and wrote The Girl on the Screen and Jumpin' the Q, making the complete show a trilogy of one-act musicals with an intermission between the second and third. They also changed the title to Virgins: A Musical Threesome. The Girl on the Screen was about a journalist profiling women who ran internet porn sites, with Jumpin' the Q a song competition for asylum seekers, with the winning girl receiving Australian citizenship papers and a recording contract.
Jumpin' the Q, Malthouse, Melbourne 2006, photo by Jeff Busby
The Virgin Wars' songs included 'Tracy & the Virgins', 'Virginity', 'STD.', 'Ripped Apart', 'The Girl Most Likely', 'The Dream Ballet', and 'Strong Girl'. The Girl on the Screen's songs were 'Join Today', 'God, I'm a Journalist', and 'Connect'; while Jumpin' the Q's were 'Jump the Queue', 'Never Go Home', 'Land Where Good Men Go', 'Hope', 'The Gift of Fun', 'I Raise my Voice', and 'The World's a Screwed-Up Place'.
Jumpin' the Q received its first production as part of Top Shorts 2003, at the Old Fitzroy Hotel Theatre, Woolloomooloo, Sydney. Produced by and Naked Theatre Company, the cast included Hollie Andrew, Simon Burke, Helen Dallimore, Mel de Ferranti and Sigrid Langford-Schoerf. Dallimore was the director, Luke Byrne musical director with Mandy Carnie as choreographer.
Dallimore brought Burke to the table. He played the compere, a role that had originally been written for a woman. [11]
The first production of the trilogy opened at the Tower Theatre, Malthouse, Melbourne, 25 January 2006. The cast included Amanda Levy, Esther Hannaford, Rosemarie Harris, Kellie Rode and Verity Hunt-Ballard, with direction by the author, musical supervision by Mathew Frank and choreography by Natalie Marsland.
Jumpin' the Q was produced as it had originally been written for five women. The song, 'The World's a Screwed-Up Place' was also cut from the same show.
The reviews were ecstatic: 'Virgins in an exhilarating experience. Funny, edgy and visually spectacular, it bursts at the seams with talent at every level.' (Cameron Woodhead, The Age); 'Virgins is a musical with legs...not to mention hips, thighs and buttocks – a heavenly trinity of three self-contained one-acters...thigh-slappingly funny.' (Chris Boyd, Herald-Sun); 'This satirical burlesque trilogy oozes with talent in all departments and is an excellent example of the new spirit in musical theatre. It seemed to me to be one of the more telling pieces of refugee-protest theatre I have so far seen.' (Owen Richardson, Sunday Age)
On 6 February 2006, the cast recorded the musical at Newmarket Studios, Melbourne, with Andrew Kroenert (backing vocals/guitar), John Shawcross (keyboard), James Simpson (keyboard), Lauren Selway (bass guitar), and Ben Espinoza (drums).
Virgin Wars, Malthouse, Melbourne 2006, photo by Jeff Busby Virgins was also nominated for six Green Room Awards: Best New Work, Best Director of a Musical (Dean Bryant), Best Lead Female (Amanda Levy), Best Featured Female (Kellie Rode), Best Design (Adam Gardnir), and Best Lighting (John Dutton).
In 2004, Kris Stewart, who had directed Bryant and Frank's Prodigal Son and The Virgin Wars, became the founding Executive Director of the New York Musical Theatre Festival, an event which annually saw the premiere of over thirty new musicals and was called by Time Out New York 'the Sundance for musical theatre'. Shows that premiered at the Festival and later went on to Broadway production included Altar Boyz and Next to Normal. Stewart extended an invitation to Bryant and Frank to bring Virgins to New York.
The authors accepted and organised a Virgins Unplugged concert at the inner-city jazz venue Manchester Lane, Melbourne, 21 August 2006. All proceeds from the high-profile fundraiser went towards sending the cast to New York. The night also served as the launch of the original cast recording. Hosted by Colette Mann, the concert featured Rhonda Burchmore, Mitchell Butel, David Campbell, Lisa McCune, Silvie Paladino, Meow Meow, James Millar, Lisa Sontag, Bert LaBonte, Natalie Marsland and the cast. The recording also included the cut song, 'The World's a Screwed-Up Place' as a bonus track.
In New York, Virgins played six performances at the Barrow Group Theatre on 36th Street, an out-of-the-way venue in the garment district. The reviews mirrored the Australian raves. 'Bryant's book and lyrics are often amusing, and Frank's generally cheerful music combines pop and Broadway influences...And the five actresses, who originated the roles in Melbourne last February, sound as lovely as they look. Levy is perhaps the standout, but all five are excellent.' (William Stevenson, broadway.com)
'When it comes to the hearts and craft beneath the hood of this often-charming, triple-bill tuner, Bryant and Frank are up there with the best.' (Matthew Murray, talkin'broadway.com)
The song singled out for acclaim was 'Connect' which was likened to the work of Stephen Sondheim and Jason Robert Brown. Natalie Marsland handled choreography, while lead guitarist Andrew Kroenert sang and also did a little puppetry on the side.
In 2007, Virgins embarked on a two-week regional Victorian tour to Dandenong, Williamstown, Mildura, Shepparton, Ballarat and Taralgon, and in September 2010, Kris Stewart again directed the work with students from the Australian Institute of Music, Sydney.
Once We Lived There, Melbourne 2009, image Bryant & FrankOnce We Lived Here was the next major Bryant and Frank musical to get up into production. Its gestation period was long. Nine years. They wrote the first song for the show, 'Soon They'll Forget' in 2000. It appeared as a bonus track on the Australian cast recording of Prodigal Son being attributed to Emoh Ruo, an early title for the musical. The show was originally commissioned in 2003 by Aubrey Mellor when he was artistic director of Playbox Theatre, Melbourne, and later won the Pratt Prize for Musical Theatre, in 2007.
When no commercial producers were knocking on their door wanting to produce the piece, Bryant and Frank decided to once again mount it themselves.
Once We Lived Here is about a fifth generation farmer whose fortunes are failing. As Bryant says, 'When do you make the decision to say something is not working? If you stay, is it out of love or desperation?' 'Soon We'll Forget' is a song about grief and letting go. 'That song got us writing around the show for years and years.' It was inspired by Bryant's mother, who lost her own mother at fourteen and brought up her younger siblings on the family farm. Bryant himself grew up on a Strathmerton dairy farm. [12]
On an ailing sheep-station in Northern Victoria, Amy and her mother Claire fight a losing battle to keep the farm afloat. Son Shaun, an aimless and troubled musician, and Lecy, Claire's other career-oriented daughter, return for a scorching long-weekend. Burke a former farmhand and Amy's ex also turns up having been invited by Claire. When Amy tries to persuade Shaun and Lecy to help her keep the farm going they argue, which results in Claire telling them she has sold the property. A bushfire sweeps close to the homestead and ignites the shearing shed. While everyone tries desperately to put it our, Claire dies. Later at her funeral the family unite as they realize it is time to move on.
The thirteen song score included 'All Roads Lead to Home', 'Gotta Fix the Pump', 'Ordinary Day', 'What the Hell', 'Soon, They'll Forget', 'The Shearing Shed', 'As Far As the Eye Can See', 'Guitar Lesson', 'Only You', 'We Like It That Way', 'Startin' From Scratch', 'Patch of Dust', and 'The Leaves of Summer'.
Bryant and Frank gathered a strong cast: Esther Hannaford (Amy), Sally Bourne (Claire), Christie Whelan (Lecy), Sam Ludeman (Shaun), and Warwick Allsopp (Burke). Bryant handled direction, Frank led a three-piece group of piano, Double Bass and Guitar, with costumes by Paula Levis, set design by Micka Agosta, and lighting by Kimberley Kwa.
The production opened to mixed reviews at fortyfivedownstairs, Flinders Lane, Melbourne, 3 September 2009, and played for 17 performances.
Tim Richards in The Age was glowing: 'Musical theatre full of life, emotion and renewal...the songs are effective and engaging: the best is "As Far As The Eye Can See"...bleakness gives way to hope and renewal, though at the cost of accepting change and moving on. It's an inspirational finale that underlines the quality of this home-grown musical.'
However Chris Boyd in the Herald-Sun thought otherwise: 'Once we Lived Here is a big, maxi-series story of squabbling siblings, their terminally ill mother and a failing farm. The dialogue and lyrics are banal and even less forgivable, so are the songs...Casting and performances are first-rate. So good, in fact, they tip the scales towards must-see...It's a shame then that most of the tunes are about as interesting as the Lazaway pools jingle.'
The cast recorded the score which was released in 2010. It includes a bonus track of 'All Roads Lead to Home' sung by Andrew Kroenert, plus 'Shaun's Idol Audition', a brief improvised tune with lyrics by Bryant and music by Sam Ludeman. [13]
Geoffrey Rush writing on the CD sleeve called the musical, 'A beautiful, poignant piece of home-grown music-theatre. It may echo Chekhov and Sondheim but it's thrillingly pure Oz'. Once We Lived Here later won the 2009 Green Room Award for Best New Australian Musical.
The Silver Donkey, Melbourne 2006
In 2005, The Silver Donkey won the Courier Mail book award for young readers and the 2005 CBC Book of the Year award for young readers. Published in 2004, the novel for children was written by Sonya Hartnett.
Set during World War I, the book traces the journey of an English soldier deserter and two young girls, Marcelle and Coco, in the French countryside. The soldier suffers psychological blindness and the girls help him plan a way to return across the English Channel back to his brother. The soldier and the girls bond, with the soldier telling moralistic tales of courage, perseverance and trying your best at all times. Though his tales are fiction, one is not; the tale of his younger brother who while being extremely ill finds a small silver donkey in the garden. The soldier has carried the silver donkey with him everywhere for luck, hope and inspiration. He gives the silver donkey to Coco in the hope that luck, hope and inspiration will spread to her.
Bryant and Frank adapted the book into a musical in 2006, with the following score: 'No Heroes Here', 'The Road To Bethlehem', 'Facts and Figures', 'The Way of the World', 'Waiting For the Rain', 'What Kind of Man?', 'Cliffs of a Foreign Land', and 'Do Your Best'.
The Silver Donkey was produced by the Children's Performing Company of Australia and Echelon Productions. It toured the US in 2006, performing in San Francisco, New York City, Orlando, Washington DC and Las Vegas. The cast were all between the ages of ten and twenty.
In late 2006, for publicity and licensing purposes, a studio cast recording was produced. The CD cast included James Byers (Lieutenant), Annie Johnstone (Marcelle), Georgie Darvidis (Coco), Andrew Kroenert (Ernie), Josie Lane (Ruth), Luigi Lucente (Joseph), and Chris Scalzo (Sky).
At Christmas 2007, Melbourne Theatre Company had a reading of the piece in the rehearsal room of the Playhouse at the Arts Centre.
The Silver Donkey toured the US for a second time in 2008, appearing in Boston, Los Angeles, New York City and San Francisco. Performance venues included Disneyland, The Acorn Theatre on Broadway, and numerous high schools. The cast numbered fifty-seven.
Trevor Ashley in Liza with an E
Bryant and Frank's first musical for children was The People in Your Pocket! a musical which told the stories behind the faces on Australia's banknotes. The subjects included Sir John Flynn and his establishment of the Royal Flying Doctor Service; Dame Nellie Melba on the eve of her 'sentimental tour' of Australia; Edith Cowan becoming the first woman in Parliament; and Sir John Monash on the battlefields of World War I.
The score includes 'The People In Your Pocket', 'Discipline', 'A Woman Can', 'The Empty Heart', 'The Ballad of Mary Reibey', 'The Last One Onstage', and 'Forever Young'. [14]
The musical, aimed at a history and mathematics curriculum, was a mix of comedy, song, dance, and student interaction. It was first produced in 2001 by Perform Productions for a Centenary of Federation tour of Victoria, New South Wales and South Australia, and has since toured to other states.
School testimonials attest to how well Bryant and Frank achieved their aim. 'Brilliant, entertaining and educational, best we've seen in years.' (Chimside Park Primary School, Victoria) 'Outstanding! The students immensely enjoyed it and really enjoyed being involved.' (Harbord Public School, NSW) 'It's entertaining and enjoyable and doesn't really come across as education even though it very much is.' (Curl Curl North Primary School, NSW)


Sheridan in Newley Discovered
Rock Me Galileo, Wipeout and Dollars and Sense followed. Rock Me Galileo focused on Galileo's findings and life and was delivered by Mikey, a musician on work-for-the-dole and by Derek, his supervisor; Wipeout looked at sustainable energy, was set on the Great Barrier Reef, and preached the importance of clean energy technology and Australian ecosystem's under threat; whilst Dollars and Sense was about financial literacy. It could be played as a double bill with The People in Your Pocket although it wasn't as it also uses the famous people on the banknotes. A young couple are having trouble with money – he can't earn it, she can't save it – and through the intervention of the famous people off the currency they learn how to make better use of money and thus their relationship. [15] All four of the school musicals are still being produced today.
The score for Rock Me Galileo was 'A Life that Rocks', 'Possibility', 'Don't Wear the Toga', 'See It With Your Own Eyes', and 'There's So Much you can do with Science'. Wipeout's song titles were: 'Wipeout!', 'Bee Bee Bee', 'Plant a Tree', 'Photosynthesis', 'Give Us Power', and 'We First'; whilst Dollars and Sense were: 'Dollars and Sense', 'Need vs. Want', 'Assets and Liabilities', and 'The God of Compound Interest'.
In recent years Dean Bryant has also been active writing for the cabaret scene. Working with Trevor Ashley he created Liza (On an E) and I'm Every Woman. Liza (On an E), a one-person tribute and parody show about Liza Minnelli has played Sydney (twice), Melbourne, Adelaide, Darwin, Perth and Brisbane.


Whelan in Britney Spears in Cabaret
Cameron Pegg, reviewing for a Brisbane Cabaret Festival gig, 22 June 2010, said: 'it's the big hits from the Liza songbook that elevate the show beyond a smart drag act. Ashley can sing, and being able to belt counts when it comes to torch songs like "Maybe This Time". That number is the high point of the production.'Kate Herbert, reviewing a January 2011 Midsumma performance for the Herald-Sun, reported Trevor Ashley received a 'standing ovation' and 'nearly lifted the roof of the Hi Fi Room...He does not impersonate Liza. Rather, he channels her spirit: her inane giggle, affected sibilance, crusty vocal quality, rambling chatter, forgetfulness, boozing, awkward dancing, glittering costumes, wardrobe malfunctions and pixie hairstyle...And in between the songs there is acerbic and hilarious patter (written by Dean Bryant) about Liza's childhood, career and marriage choices'.
In I'm Every Woman, Trevor Ashley donned the wigs and dresses of fourteen of his favourite divas, Lady Gaga, Whitney Houston, etc. Matt Akerston reviewing his Sydney Opera House Studio appearance for samesame.com.au claimed Ashley 'treated his mostly gay audience to a fabulous pick-n-mix of diva singing stars'.
The 2010 Adelaide Cabaret Festival saw the premiere of Newley Discovered, a one-man show that traced the career highs and lows of actor and composer Anthony Newley. Written by Bryant and Phillip Scott and directed by Bryant, it was performed by Hugh Sheridan.

Rathgeber, Experiment: Cole Porter
'Sheridan gives a charming and nuanced performance as Newley...Songs are both integrated lineally into the plot, or their lyrics are used to support the narrative outside of their chronological placement, and Sheridan gives a beautiful voice and personality to the music... a theatrical gem.' (Jane Howard, Australian Stage)
'Tegrity: Britney Spears Live in Cabaret was written and directed by Bryant with musical arrangements by Mathew Frank, and was a one-woman show about Spears' tempestuous private and public career starring Christie Whelan. It began life in the JB Room at the Adelaide Cabaret Festival before playing Sydney where it was nominated by the Sydney Theatre Critics 2009 award for Best Cabaret.
'Even those who aren't fans of Britney's music will be won over by Christie Whelan's tragi-comic turn as the scandalous pop diva... Her slow-burn rendition of "Toxic", sung atop a piano, was sexy and knowing, and shows that Britney has been blessed with some terrific songs... "Slave" was another inspired arrangement, with Whelan singing it in the guise of Britney, the child star...It's one of the many examples where Whelan, together with writer/director Bryant and music arranger Mathew Frank, give Britney's songs a depth and poignancy missing from the real girl's music clips.' (Sara Bannister, Stage Whispers)


Josie in the BathhouseThe show later played Chapel off Chapel, Melbourne, 18-29 January 2009, and then toured to Brisbane and Sydney. When 'Tegrity was dropped from the title after the first two seasons the show sold out from that point on. [16]
Bryant also created the cabaret Experiment: Cole Porter, which looked at a young man's year in London as told through the songs of Cole Porter. It starred Alex Rathgeber and debuted at the Adelaide Cabaret Festival in 2010.
Josie in the Bathhouse was a tribute to Bette Midler's New York bathhouse shows in the 70s and starred Josie Lane. It premiered at the Adelaide Cabaret Festival in 2011 in the Space and later played the Spiegeltent in 2012. "Her voice would put Christina Aguilera and her contemporaries to shame" (Aussietheatre.com), "wonderfully steamy...fresh, and immaculately delivered" (Australian Stage Online)
With In Vogue: Songs by Madonna, Michael Griffiths, as Madonna at a baby grand with no wig, accent or costume, took the audience on a masterclass in how to write a pop song. It premiered at the Artspace at the Adelaide Cabaret Festival in 2011. It later toured to Sydney, Melbourne, Brisbane, Auckland and New York where it played Don't Tell Mamas.
Griffiths, In VogueBryant's latest work was Gaybies which played the Sumner Theatre, Melbourne Theatre Company as part of the Midsumma 25th Anniversary. It was a piece of verbatim theatre where Bryant interviewed children of gay families about their experiences of growing up and starred 14 actors including Magda Szubanski, Todd McKenney, Virginia Gray, Kate Kendall, Ben Mingay and Christie Whelan. "The beauty of this work lies in its poignant simplicity...As uplifting as Gaybies is to watch, it comes with a sense of sorrow as well as celebration, because as the answers quoted throughout this production show over and over, in 2013 such pleas for acceptance and equality should no longer be necessary. (Kate Herbert, Herald-Sun)Bryant was Worldwide Associate Director of Priscilla, Queen of the Desert – The Musical, directed The Last Five Years at fortyfivedownstairs, Stables and Q Theatre, and has also worked on many musicals for MTC: Next to Normal, The Drowsy Chaperone, Urinetown (also STC), 25th Annual Putnam County Spelling Bee (also STC), and Hitchcock Blonde.
Frank's musical director credits for MTC include: The Drowsy Chaperone, Urinetown (also STC), Poor Boy (also STC), 25th Annual Putnam County Spelling Bee,The Sapphires and A Funny Thing Happened on the Way to the Forum with Geoffrey Rush.
All Roads Lead To Home, a compilation show of their own work first played a season at the BMW Edge, Federation Square during the 2004 Melbourne International Arts Festival. Hosted by Colette Mann, it featured Damian Humbley, Adam Murphy, Rosemarie Harris, Anne Wood, Christen O'Leary and Erin Cornell. Mann later hosted it again when it played the Shepparton Arts Festival with Adam Murphy, Jolyon James, Kellie Rode, Esther Hannaford and Amanda Levy.
Cast of Gaybies, Midsumma 25th Anniversary
Sheet music of songs from Prodigal, Virgins, Once We Lived Here, and The Silver Donkey can be found at their website www.bryantandfrank.com
So far Dean Bryant and Mathew Frank's creative career has taken them down the path of small-scale musicals. Their dream is to one day write the Great Australian Musical which Bryant believes is 'just around the corner. That's why we are training ourselves on these smaller shows. We'll hone our shows and eventually take on a big show that will be loved by Australian audiences'. [17]
Until then, Bryant and Frank can be happy in the knowledge they have already created history writing the first Australian musical to play Off-Broadway. And what's more they did it at 25!
Special thanks to Dean Bryant and Frank Van Straten for their help with research for this article.
References:
[1] Prodigal was the first Australian musical to be written, developed and produced in Australia before being produced On or Off-Broadway. Chu Chin Chow was written by Geelong born Oscar Ashe (book & lyrics) but premiered in London in 1916 before opening in New York in 1917. Likewise, Peter Whyllie Johnston's Moses – The Spirit of Freedom was created in Australia but premiered in London in May 1999 and in New York in October 1999.
[2] Liner notes Prodigal US cast recording.
[3] ibid
[4] Interview with Dean Bryant, 2013
[5] Prodigal, 2011 program
[6] Interview with Dean Bryant, 2013
[7] ibid
[8] Interview with Dean Bryant following the New York premiere.
[9] Author's observation on New York production.
[10] Interview with Dean Bryant, 2013
[11] ibid
[12] Herald-Sun, 9 September 2009, p.55
[13] Interview with Dean Bryant, 2013
[14] ibid
[15] ibid
[16] ibid
[17] Herald-Sun, 9 September 2009, p.55
Newspapers and web pages sourced for this article:
The Age
Arts hub
Broadway.com
Herald-Sun
New York Times
Samesame.com.au
Stage Whispers
Sunday Age
Talkin'broadway.com
Theatermania.com
Time Out New York
Bryant & Frank Discography:
Prodigal Son (2000)
Chapel off Chapel, Melbourne
Cast: Dean Bryant, Barry Mitchell, Jules Hutchison, Graham Pages, Amanda Levy
1. Overture - Piano
2. 'Picture Postcard Place' – Dean Bryant, Jules Hutchison, Barry Mitchell, Graham Pages
3. 'Happy Families' – Dean Bryant, Jules Hutchison, Barry Mitchell, Graham Pages
4. 'Run With the Tide' – Dean Bryant
5. 'Brand New Eyes' – Amanda Levy, Dean Bryant
6. 'When I Was a Kid' (1) – Amanda Levy, Graham Pages, Dean Bryant
7. 'When I Was a Kid' (2) – Dean Bryant
8. 'My Boy' – Barry Mitchell, Jules Hutchison, Graham Pages, Dean Bryant
9. 'Out of Myself' – Graham Pages, Dean Bryant
10. 'Set Me Free' – Graham Pages, Dean Bryant
11. 'Epiphany' – Dean Bryant, Jules Hutchison, Barry Mitchell, Amanda Levy
12. 'Love Them and Leave Them Alone' – Jules Hutchison, Barry Mitchell
13. 'Where Does It Get You' – Dean Bryant, Jules Hutchison
14. 'Maddy's Piece' – Amanda Levy
15. 'Lullaby' – Barry Mitchell
16. Finale – Dean Bryant, Amanda Levy, Jules Hutchison, Barry Mitchell
17. 'Soon They'll Forget' – Amanda Levy
Prodigal Son Productions
Prodigal (2002)
York Theatre, New York, USA
Cast: Christian Borle, Kerry Butler, Alison Fraser, David Hess, Joshua Park
1. Overture - Piano
2. 'Picture Postcard Place' – Joshua Park, Alison Fraser, David Hess, Christian Borle
3. 'Happy Families' – Joshua Park, Alison Fraser, David Hess, Christian Borle
4. 'Picture Postcard Place' – Reprise Joshua Park, Alison Fraser, David Hess, Christian Borle
5. 'Run With the Tide' – Joshua Park
6. Brand New Eyes – Kerry Butler, Joshua Park
7. 'When I Was a Kid' – Part One – Kerry Butler, Christian Borle, Joshua Park
8. 'When I Was a Kid' – Part Two – Joshua Park
9. 'My Boy' – David Hess, Alison Fraser, Christian Borle, Joshua Park
10. 'Out of Myself' – Christian Borle, Joshua Park
11. 'Set Me Free' – Christian Borle, Joshua Park
12. 'Epiphany' – Joshua Park, Alison Fraser, David Hess, Kerry Butler
13. 'Love Them and Leave Them Alone' – Alison Fraser, David Hess
14. 'Where Does It Get You?' – Joshua Park, David Hess
15. 'Maddy's Piece' – Kerry Butler
16. 'Lullaby' – David Hess
17. Finale – Joshua Park, Kerry Butler, Alison Fraser, David Hess
Jay Records – CDJAY 1370
Virgins (2006)
Tower Theatre, Malthouse, Melbourne
Cast: Amanda Levy, Esther Hannaford, Rosemarie Harris, Verity Hunt-Ballard, Kellie Rode
1. 'Tracey and the Virgins' – Andrew Kroenert
2. 'Virginity!' – The Girls
3. 'STD' – Esther Hannaford, Verity Hunt-Ballard, Rosemarie Harris, Kellie Rode
4. 'Ripped Apart' – Amanda Levy, Verity Hunt-Ballard, Rosemarie Harris
5. 'The Girl Most Likely' – Kellie Rode, Rosemarie Harris, Esther Hannaford
6. 'The Dream Ballet' – Kellie Rode
7. 'Strong Girl' – Rosemarie Harris, Verity Hunt-Ballard, Esther Hannaford
8. 'Virginity!' – Reprise – The Girls
9. 'Tracey and the Virgins' – Reprise – Andrew Kroenert & Girls
10. 'Join Today' – Verity Hunt-Ballard, Esther Hannaford, Rosemarie Harris, Kellie Rode
11. 'God, I'm a Journalist' – Amanda Levy
12. 'Connect' – Verity Hunt-Ballard, Rosemarie Harris, Esther Hannaford, Amanda Levy
13. Finale – 'Connect' – Reprise – Amanda Levy
14. 'Jump the Queue' – Amanda Levy & Girls
15. 'Never Go Home' – Esther Hannaford
16. 'Land Where the Good Men Are' – Verity Hunt-Ballard
17. 'Hope' – Rosemarie Harris
18. The Gift of Fun – Kellie Rode
19. 'I Raise My Voice' - Girls
20. 'I Raise My Voice' – Reprise - Girls
21. 'Bows' - Band
22. 'The World's a Screwed-Up Place' (Cut) – Rosemarie Harris, Esther Hannaford, Verity Hunt-Ballard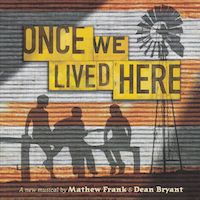 Once We Lived Here (2010)
fortyfivedownstairs, Melbourne
Cast: Esther Hannaford, Sally Bourne, Christie Whelan, Sam Ludeman,
Warwick Allsopp
1. 'All Roads Lead To Home' - Company
2. 'Gotta Fix the Pump' – Esther Hannaford, Christie Whelan
3. 'Ordinary Day' – Sally Bourne, Esther Hannaford, Christie Whelan, Sam Ludeman
4. 'What the Hell' – Christie Whelan, Sam Ludeman, Esther Hannaford
5. 'Soon, They'll Forget' – Esther Hannaford, Christie Whelan
6. 'The Shearing Shed' – Sam Ludeman
7. 'As Far As the Eye Can See' – Esther Hannaford
8. 'Guitar Lesson' – Warwick Allsopp, Sam Ludeman
9. 'Only You' – Christie Whelan, Sally Bourne
10. Finale Act 1 – Company
11. 'We Like It That Way' – Esther Hannaford, Sam Ludeman, Christie Whelan
12. 'Startin from Scratch' - Warwick
13. 'Patch of Dust' – Esther Hannaford, Warwick Allsopp
14. 'The Shearing Shed' – Reprise – Company
15. 'The Leaves of Summer' – Esther Hannaford, Sam Ludeman, Christie Whelan, Warwick Allsopp
16. Finale Act 2 – Company
17. 'All Roads Lead To Home' – Andrew Kroenert
18. 'Shaun's Idol Audition' (Bryant/Ludeman) Sam Ludeman
The Silver Donkey (2006)
Studio Cast: James Byers, Annie Johnston, Georgie Darvidis, Andrew Kroenert, Josie Lane, Luigi Lucente, Chris Scalzo
1. 'No Heroes Here'
2. 'The Roads to Bethlehem'
3. 'Facts and Figures'
4. 'The Way of the World'
5. 'Waiting for the Rain'
6. 'What Kind of Man?'
7. 'Cliffs of a Foreign Land'
8. 'Do Your Best'
Not released commercially
Musicals from the Land Of Oz (2001)
1. 'Picture Postcard Place' – Dean Bryant, Jules Hutchison, Barry Mitchell, Graham Pages
2. 'Happy Families' – Dean Bryant, Jules Hutchison, Barry Mitchell, Graham Pages
Both from 2000 Original Australian Cast Recording
Bayview RNBW012
Bryant & Frank Sheet Music:
Prodigal
'Brand New Eyes'
'Love Them and Leave Them Alone'
'Lullaby'
'When I Was a Kid'
'Where Does It Get You?'
Virgins
'Connect'
'Hope'
'Land Where the Good Men Are'
'Never Go Home'
Once We Lived Here
'As Far As the Eye Can See'
'Only You'
'Soon They'll Forget'
'Staring From Scratch'
'The Shearing Shed'
The Silver Donkey
'Do Your Best'
Cabaret
'Friend'